A Year & A Day - Vol 1 of the Handfasting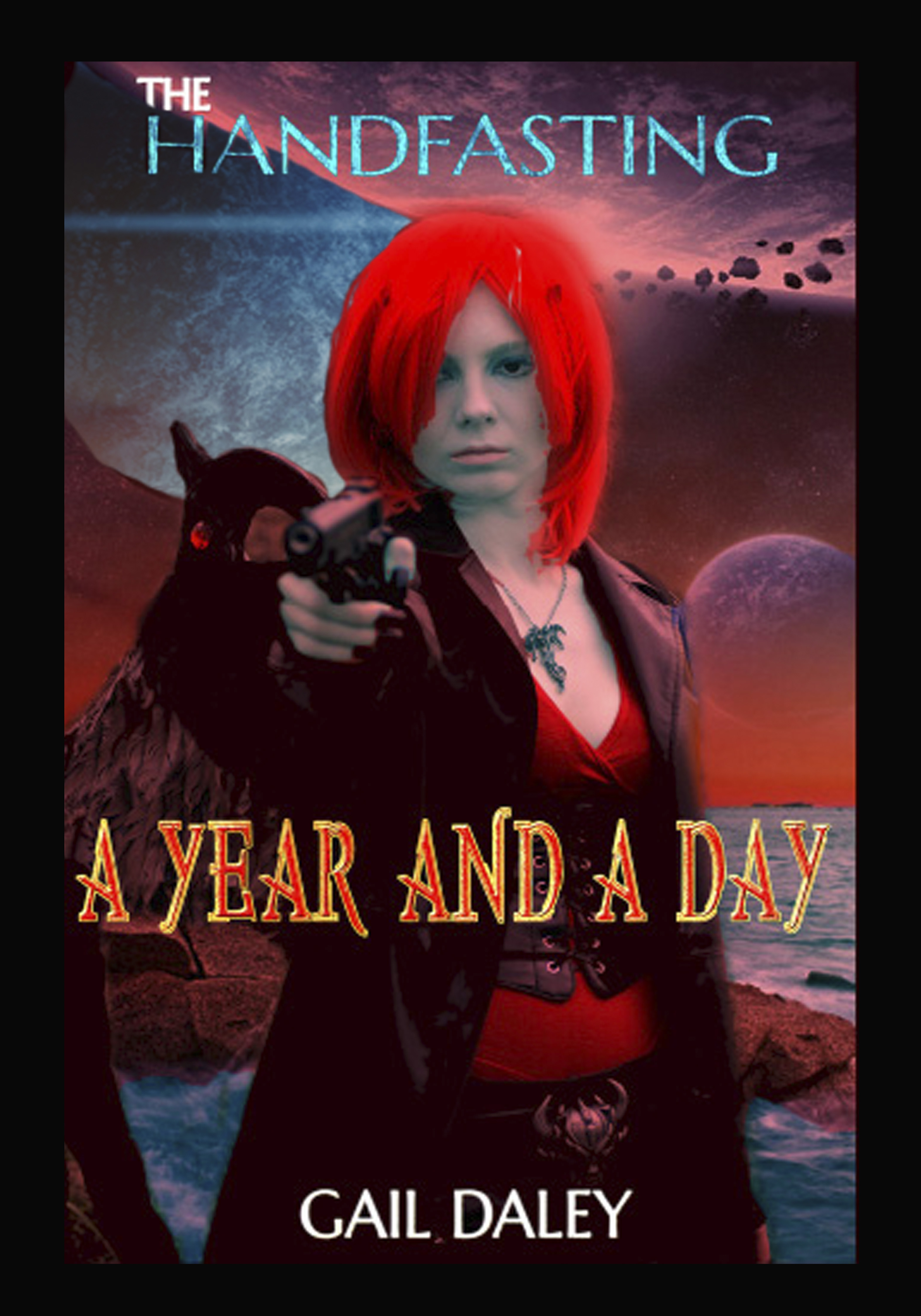 $ 12.65 USD
Welcome to the far future.The Handfasting is an epic tale of a family's struggle to survive. These are the courageous women and dangerous men who chose to carve a home on the alien world of Vensoog.
Meet Katherine O'Teague, the heir to Veiled Isle, computer hacker and all-around tough lady, and Lieutenant Zachery Jackson, a hardened ex-recon soldier and his five super-smart orphaned dependents.
The colony of Vensoog is in trouble. A bio-weapon killed or sterilized all the male colonists. To keep the colony from dying out, the Matchmaker Program finds ex-soldiers like Zack without a planet and offers them a new home if they are willing to marry women willing to sacrifice all to save their colony. Zack's home planet is a pile of radioactive ash. He desperately needs a new home for himself and his kids. When the Matchmaker Program chooses Katherine for him, is it a match made in Heaven or Hell? Katherine needs to find out in a hurry because Zack's five foundlings are too smart for their own good. She and Zack must find a way to keep their kids safe from the ruthless Thieves Guild who wants them, and what they stole when they escaped, back. Plus, Katherine is falling for her new husband and hasn't a clue if he feels the same about her…
Soft Cover Fomat
Forever & A Day - Vol 2 The Handfasting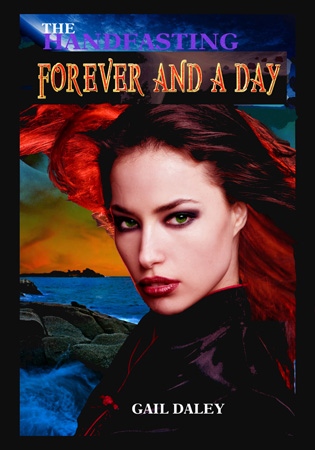 $ 12.95 USD
Welcome to the far future. The Handfasting is an epic tale of a family's struggle to survive.Meet the courageous women and dangerous men who carve a home on the alien world of Vensoog. A marriage of convenience between two determined, strong willed people sparks a planetary war and puts at risk everyone they love.
Laird Genevieve O'Teague, beautiful, and strong-willed had become leader of her people at seventeen.Colonel Gideon Michaelshad been a soldier who controlled thousands of fighters in the war. After the war ended, he needed a home for his orphan niece and his adopted son. Genevieve's offer would provide both, butcould he follow his heart and learn to trust and love his new wife? Vensoog is under attack by pirates and when Genevieve and his niece are kidnapped by an agent of the Thieves Guild, Genevieve and Gideon must learn to rely on each other and their newfound love to defeat their enemies.
Softcover format
All Our Tomorrows - Vol 3 - The Handfasting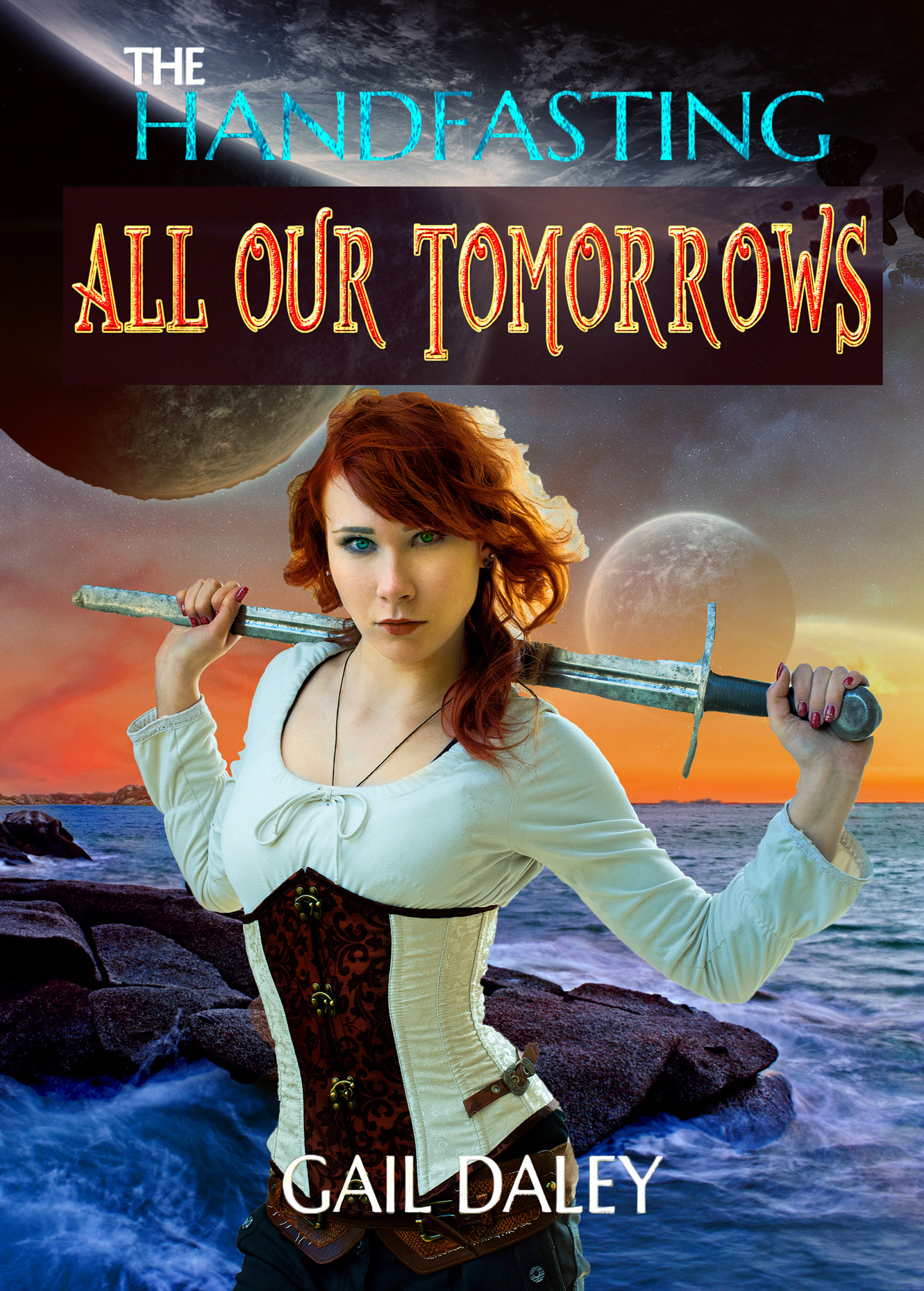 $ 12.95 USD
The Handfasting is an epic tale of a family's struggle to survive. Meet the courageous women and dangerous men who have chosen to carve a home on the alien world of Vensoog.
A warrior/priestess teams up with a Bard from another world and genetic "designer" children to defeat a dangerous foe and keep their planet from destruction.
Lady Drusilla O'Teague, 3rd daughter of a powerful line of psychically gifted women, was trained from birth as warrior and Dragon Talker. She distrusts her own feelings because as child she was unable to shield herself from the seesaw emotions of others.
Lucas Lewellyn is an off-world survivor of the Karamine Wars. He is the hereditary Bard of his people with the ability to compel with his voice, but he is untrained in using his powers. He knows when he meets Drusilla that their destinies are linked, but will she admit it?
Their world of Vensoog is in danger. A prince of the Thieves Guild wants the deposits of Azorite—mighty crystals used to power spaceships and found in large quantities on Vensoog. To save their world, Drusilla and Lucas will need the help of "designer" children built by that same Thieves Guild.
Juliette Jones—created in the Guild's Geno-Lab to be super smart, ruthless, wily and conniving: the perfect spy. But the Guild never realized they had also given her a loving heart.
Lucinda Karns—daughter of a Thieves Guild Lieutenant, she was given enhanced genes to make her the perfect icy thinker and planner, but those genes sparked a need for balance and gave her a moral compass at odds with her masters' goals.
Violet Ishimara—constructed with a high degree of empathy to be a tool for the Guild, Her alliance with the Vensoog Sand Dragon Jelli gave her the courage to stand up to her masters.
Rupert, the intuitive chemist, and Roderick, the electronic genius—orphaned twins seen by the Guild as tools to turn into weapons, turned out to be a lot tougher than the Guild expected.
Soft Cover Format
From This Day Forward - Vol 4 The Handfasting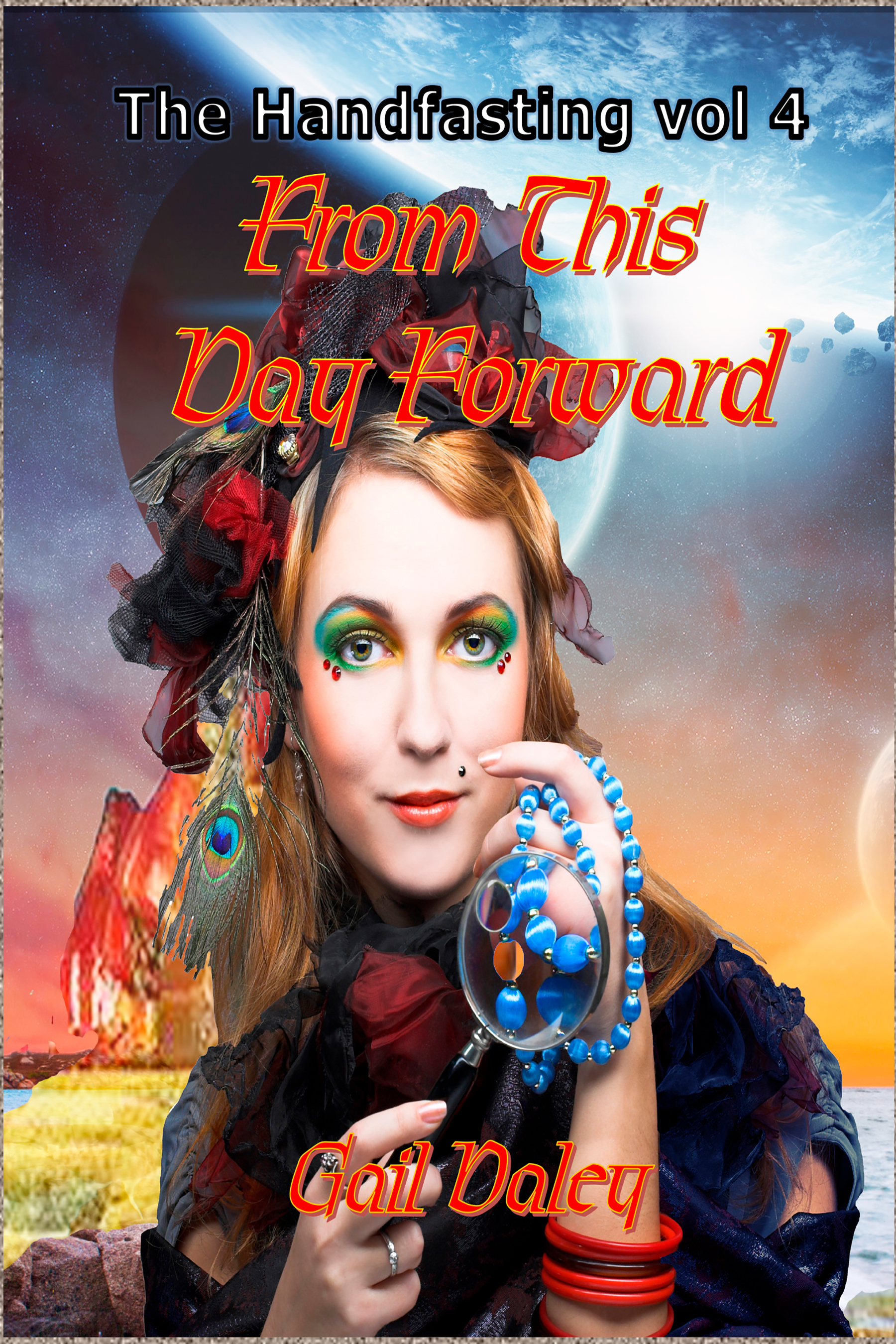 $ 12.95 USD
When Lady Jayla O'Teague finds the body of a retired shopkeeper on the beach, a series of mysterious events draw her into a web of passion, terror and murder. She must find the killer and discover what he wants because she is his next target. All the while dealing with a dysfunctional house-bot who thinks he's a sex-bot, Jake, her nosy boyfriend, an overprotective family, interplanetary jewel thieves with missing loot, and the interplanetary and local detectives who think she stole the jewels…The kids from the first three Handfasting books are all grown up and facing their own challenges. The Handfasting is an epic tale of a family's struggle to survive on an alien world.
Soft Cover Format
Warriors of St. Antoni - Portal World Tales 1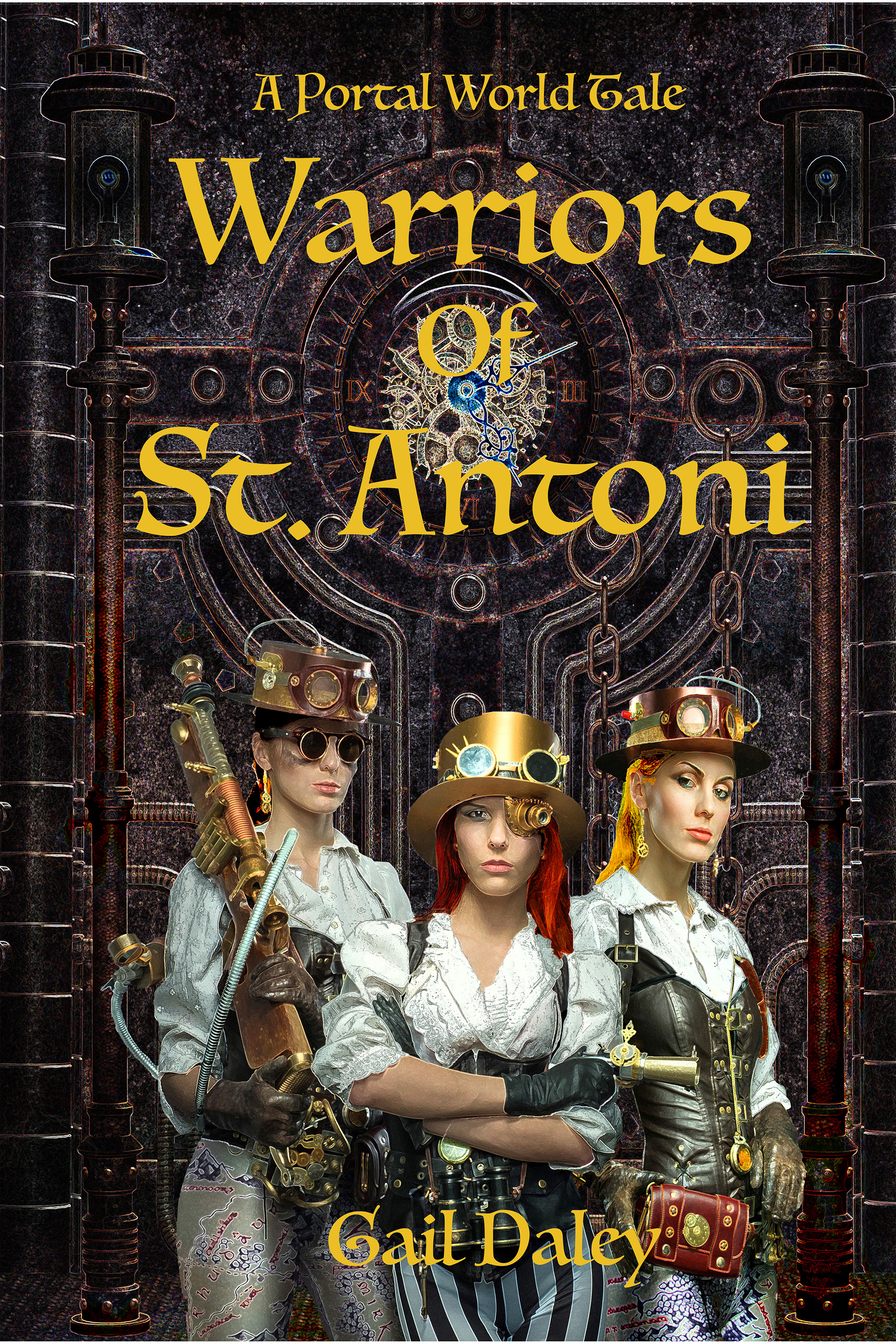 $ 12.95 USD
When the Portal technology leaked, unregulated gates popped up like fleas on a dog in summer. Going through a gate was a gamble. Immigrants who came through these illegal gates had only the supplies and technology they could carry to defend themselves against the alien plants and bizarre animals they found. But they came because of man's lust to explore and because they wanted freedom and adventure. With intelligence, courage, and sheer stubbornness, they built a new world.
Sisters Bethany, Jeanne and Iris must each make choices to survive on the alien world of St. Antoni. Bethany marries a mercenary warrior to shield her family from a predatory neighbor. To her surprise, the marriage of convenience turns into a love match, but they are surrounded by enemies and must learn to trust as well as love. Iris chooses an arranged marriage with an old friend, but did he marry her for love or for her father's property? Jeanne and the son of her family's greatest enemy fall in love and run away to make a life in a distant city, but find that you can't escape who you are.
Soft Cover Format