Your Luxurious Room: Small Changes You Can Make Using Art for Big a Impact
Small changes make a big difference in a room, especially when they're a part of something you use on a daily basis. Tip: Change Your Switch Plates--Switch plates are usually white or a pale neutral, but they're a great place to take a risk with a bit of shiny metal, color, or a pattern . You can use 3M adhesive strips for hanging Art or attaching wallpaper so you don't damage the walls when you remove it. Put a small piece of art in a corner or a nook. Prints and other décor items from Fine Art America can be ordered in any size you need to fill a small space. Turn a throw pillow or a shower curtain into a work of art. Practically every room in the house could use a throw pillow.
To Buy Gail's Original Art

Original - Street Vendor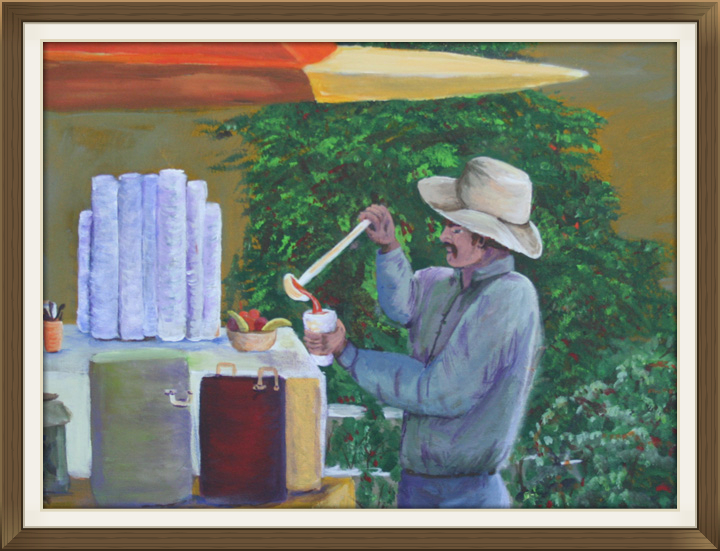 $ 425 USD
Original Acrylic Painting. 18"h x 24"w, Acrylic on Canvas Includes $125 shipping costs & taxes
ORIGINAL ART: TO VIEW GAIL'S ORIGINALS, CLICK HERE If you are interested in purchasing any of the art shown on These pages , please contact Gail for for a current price list, or you may download the one above, however it is subject to change without notice. Fill in the information below and click the buy now button. Any pricing on the Original pieces shown are subject to change. Additional shipping and handling charges are applied depending on the weight, size of the art and the distance to be shipped. Art will only be shipped after the payment has been verified.



Get Prints, cards, giclee's or Products using Gail's Art
PRINTS: You can purchase prints of my art at Fine Art America in various sizes and types (Canvas, metal, acrylic of various sizes greeting cards, I-phone cases, duvet, tote bags, throw pillows, image licensing is also available). Click Here to go to my Print On Demand Site

Art prints start at around $20.00. Canvas prints usually start at around $40, Acrylic prints at about $70 and metal prints at about $60. You may also
choose From Thousands of available Frames and Mats. Greeting cards can be bought by the card or in a package of 10 or 25. All Cards are 5" x 7" and Include White Envelopes for Mailing and Gift Giving
How to Build a Room Around a Signature Piece of Art
One of the boldest ways to customize your home is with a signature
art
piece. The piece you choose will be the one
feature
to express the right
ambiance
of your home. Signature pieces work to create main focal points within a room by adding style, a desired element of interest, and even fun into an otherwise barren,
uninteresting
space.