Buy 4 Get 1 Free!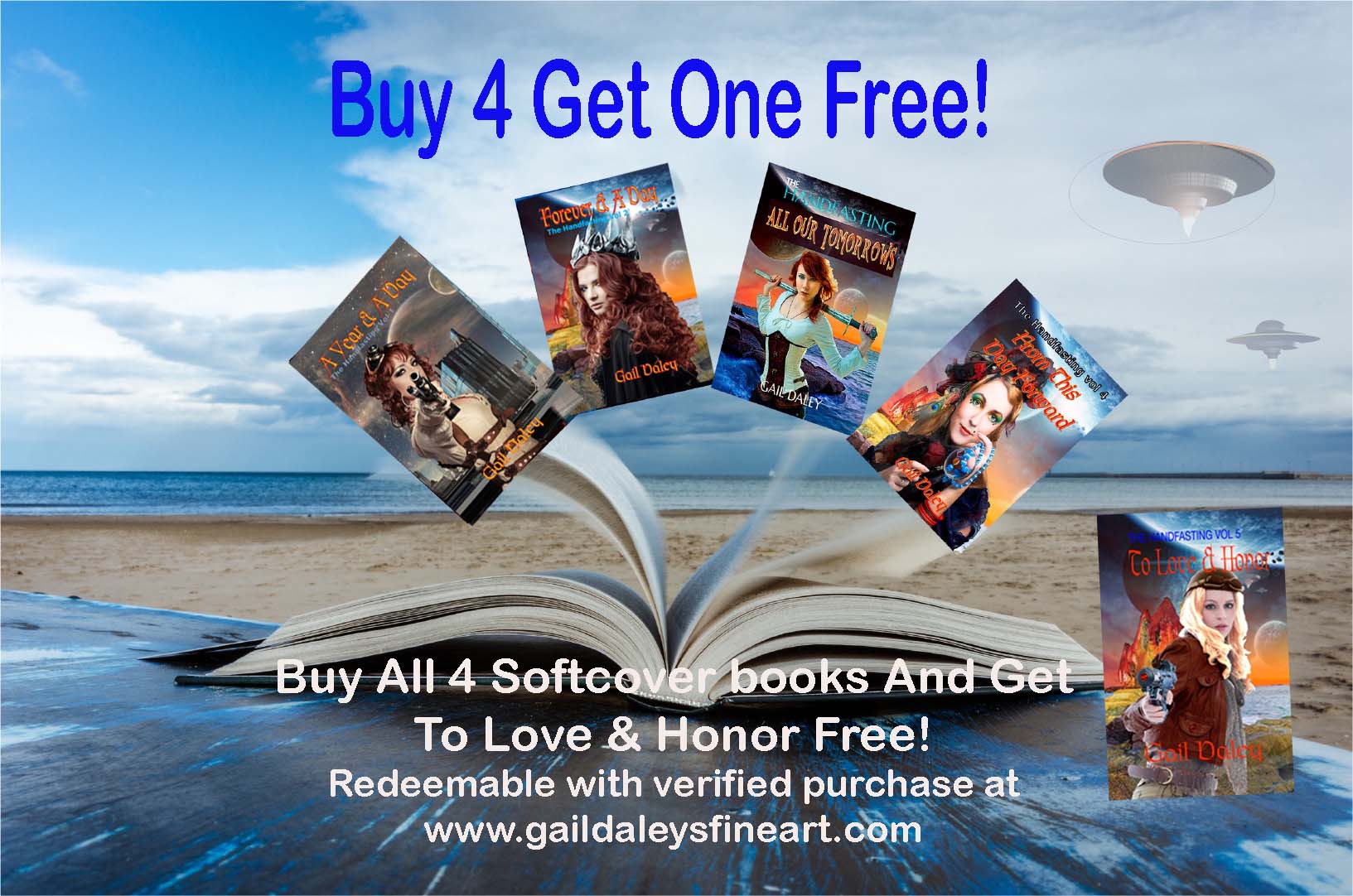 $ 48.00 USD
Buy the 1st 4 books of the Handfasting Series in Soft Cover format and receive a FREE copy of Book #5 To Love & Honor. You save $17! Redeemable with verified purchase (packing slip or receipt) from Gail Daley's Fine Art, D2D, or Amazon.com Shipping/handling charges apply Not available with E-Books
A Year & A Day - Vol 1 of the Handfasting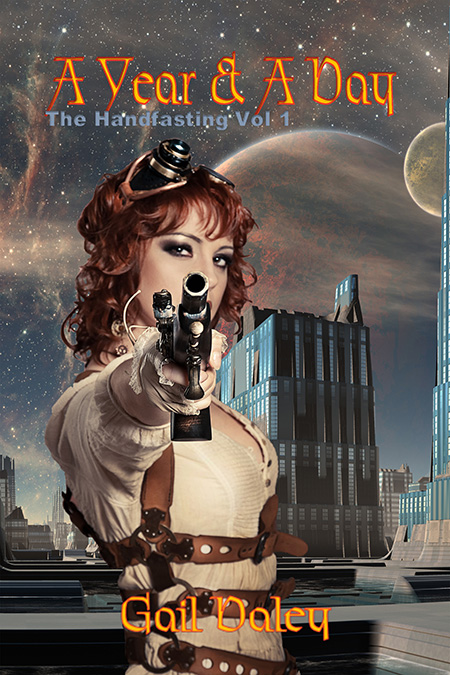 $ 12.65 USD
Welcome to the far future, These are two of the courageous women and dangerous men who dare carve a home on another world. Katherine O'Teague, heir to Veiled Isle, computer hacker and one tough lady, and Lieutenant Zachery Jackson, a hard-as-nails ex-recon soldier and his five super-smart kids. In the last interplanetary war a bio-weapon killed or sterilized all the males on Vensoog. To keep the colony alive, the Matchmaker Program found ex-soldiers like Zack without a planet and offered them a new home on Vensoog if they are willing to marry a Vensoog woman. With his home world now pile of radioactive ash, Zack desperately needs a new home for himself and his kids, so he accepts the offer. When the Matchmaker Program pairs him with Katherine, they both wonder iif it is a match made in Heaven or Hell? They need to find out in a hurry, because the ruthless Thieves Guild wants the kids and what they stole back. And they will kill whoever gets in their way. Plus, Katherine is falling for her new husband and hasn't a clue if he feels the same about her…
Forever & A Day - Vol 2 The Handfasting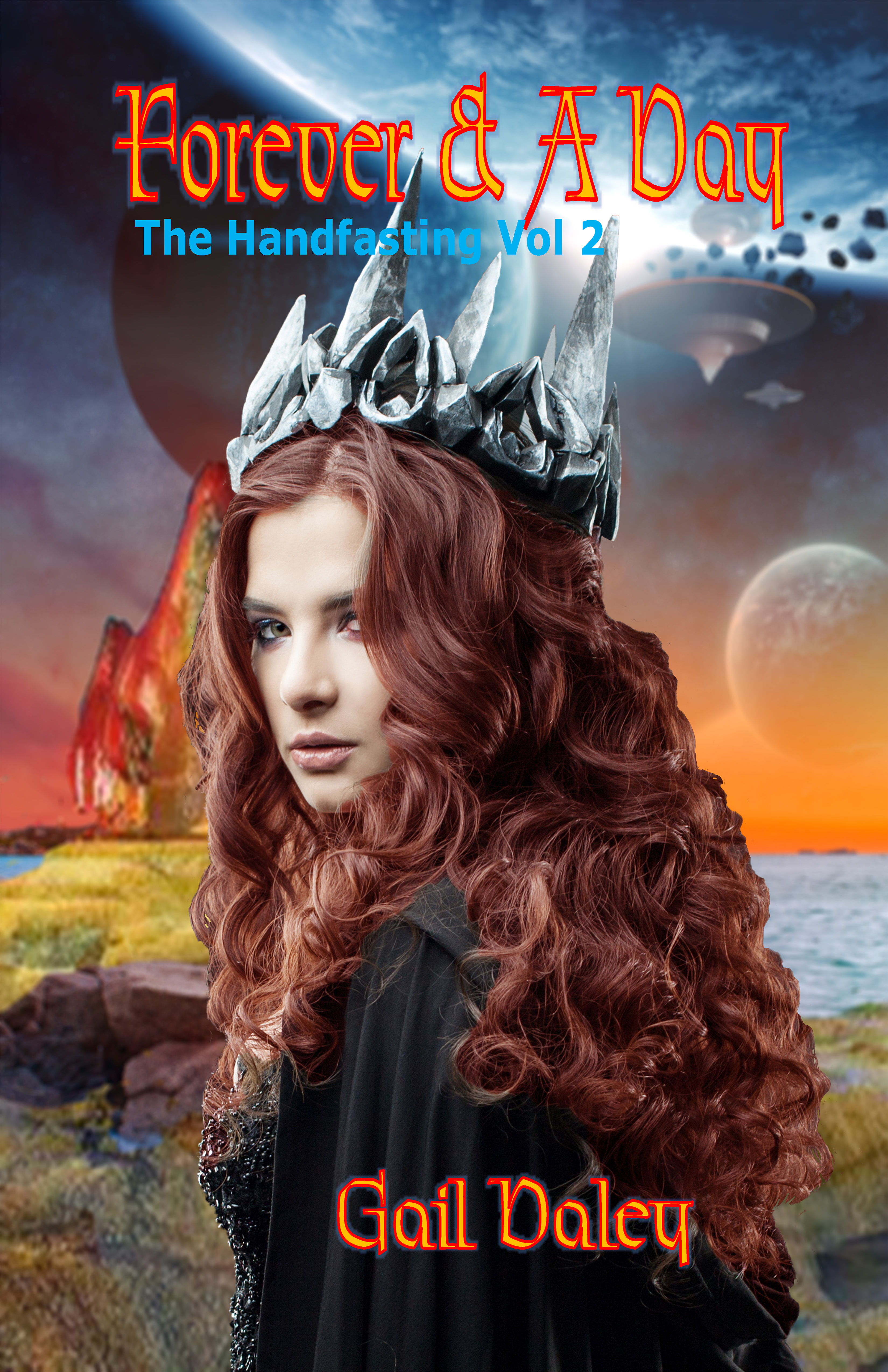 $ 12.95 USD
Welcome to the far future. The Handfasting is an epic tale of a family's struggle to survive. Meet the courageous women and dangerous men who carve a home on the alien world of Vensoog. A marriage of convenience between two determined, strong willed people sparks a planetary war and puts at risk everyone they love. Laird Genevieve O'Teague, beautiful, and strong-willed became leader of her people at seventeen. Colonel Gideon Michaels had been a soldier who controlled thousands of fighters in the war. When it was over he needed a new home for his orphan niece and his adopted son. Genevieve's offer would provide both, but could he follow his heart and learn to trust and love his new wife? Vensoog is under attack by pirates and when Genevieve and his niece are kidnapped by an agent of the Thieves Guild, Genevieve and Gideon must learn to rely on each other and their newfound love to defeat their enemies.
All Our Tomorrows - Vol 3 - The Handfasting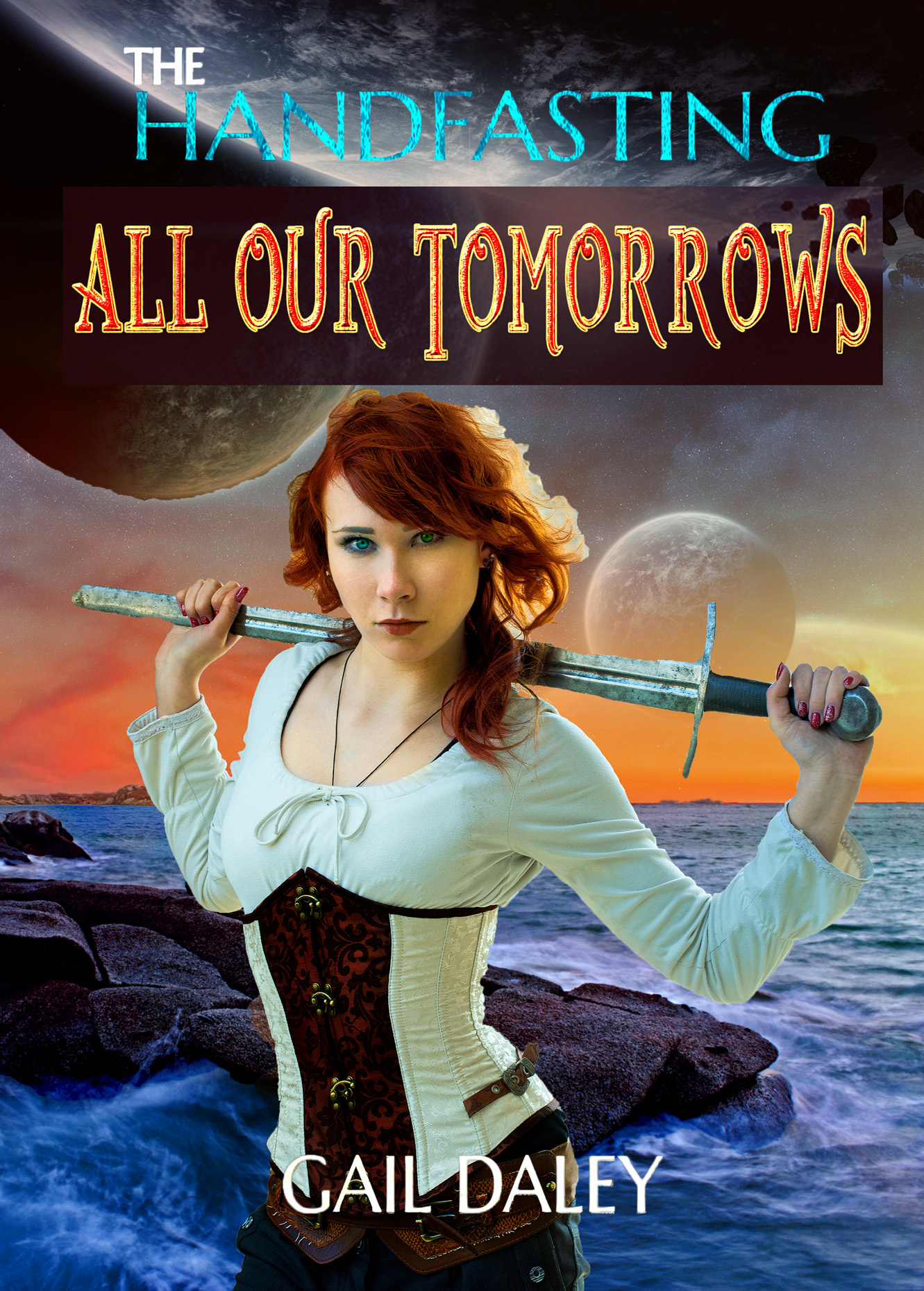 $ 12.95 USD
To save their planet from a hostile takeover, a warrior/priestess joins a bard from another world and five genetically designed children. Drusilla: A Dragon Talker, born of a line of powerful, psychically gifted women, she has been trained to command the beasts of Vensoog. Lucas: An off-world survivor of an interplanetary war, he is the untrained hereditary Bard of his people with the ability to compel with his voice. Juliette: super smart, ruthless, wily and conniving—the perfect spy whose creators never realized they gave her a loving heart. Lucinda: genius level IQ whose enhanced creativity genes made her the perfect icy planner. But those same genes sparked a need for order and balance at odds with the goals of her masters. Violet: a powerful empath whose alliance with the Vensoog Sand Dragon Jelli gave her the courage to defy her masters. Rupert and Roderick: the intuitive chemist and the genius code cracker turned out to be a lot tougher than their masters anticipated. Only by working together can they stop the ruthless Thieves Guild from enslaving their planet.
From This Day Forward - Vol 4 The Handfasting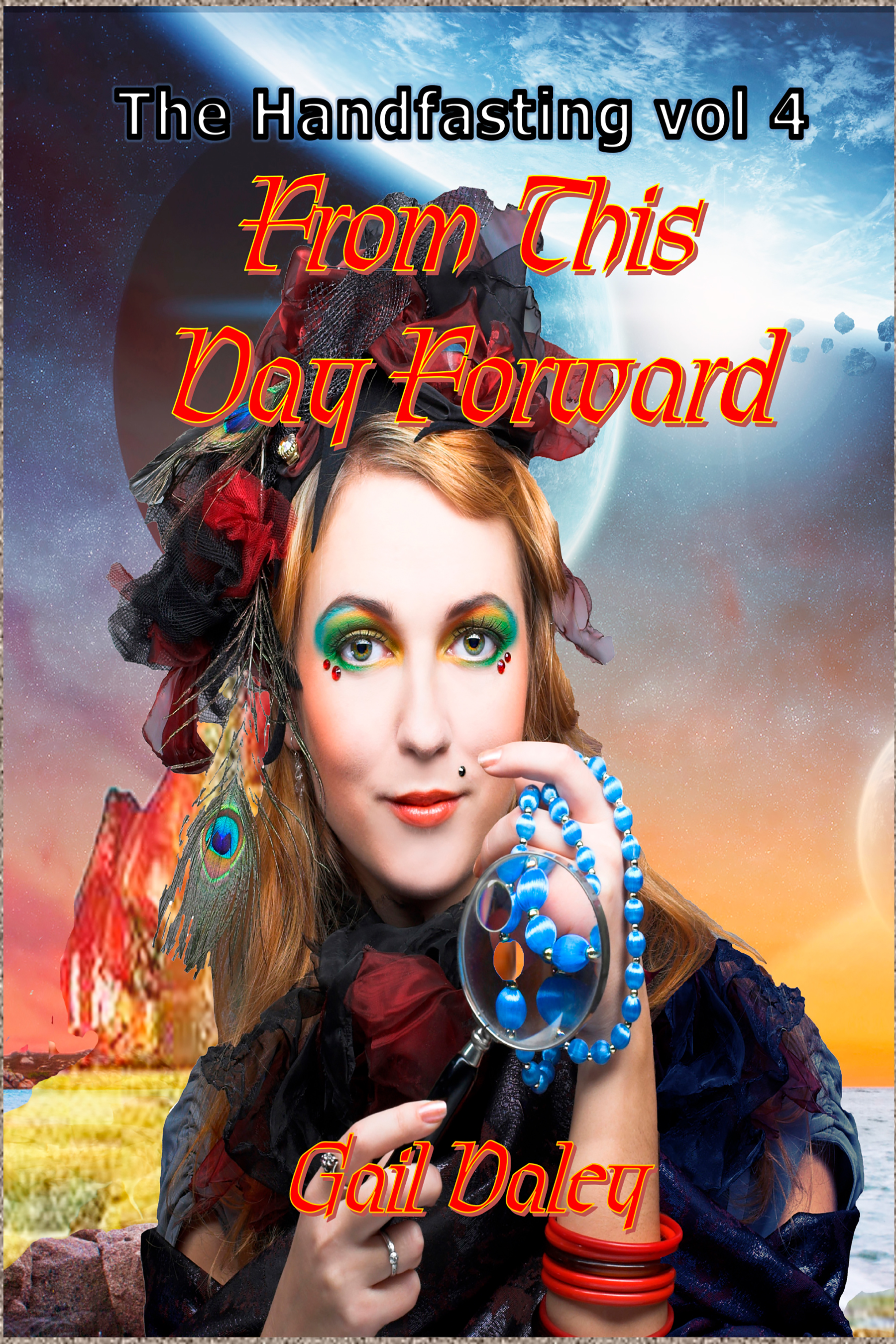 $ 12.95 USD
When Lady Jayla finds the body of a retired shopkeeper on the beach, a series of mysterious events draw her into a web of passion, terror and murder. She must figure out who the killer is and what he wants before can target her. Then there is her dysfunctional house-bot who thinks he's a sex-bot, Jake, her nosy boyfriend, her overprotective family, the interplanetary jewel thieves looking for their missing loot, and the local and interplanetary detectives who think she stole the jewels… The Handfasting is an epic tale of a family's struggle to survive on an alien world. Meet the courageous women and dangerous men who dare to make a home on an alien planet.
To Love & Honor – Vol 5 The Handfasting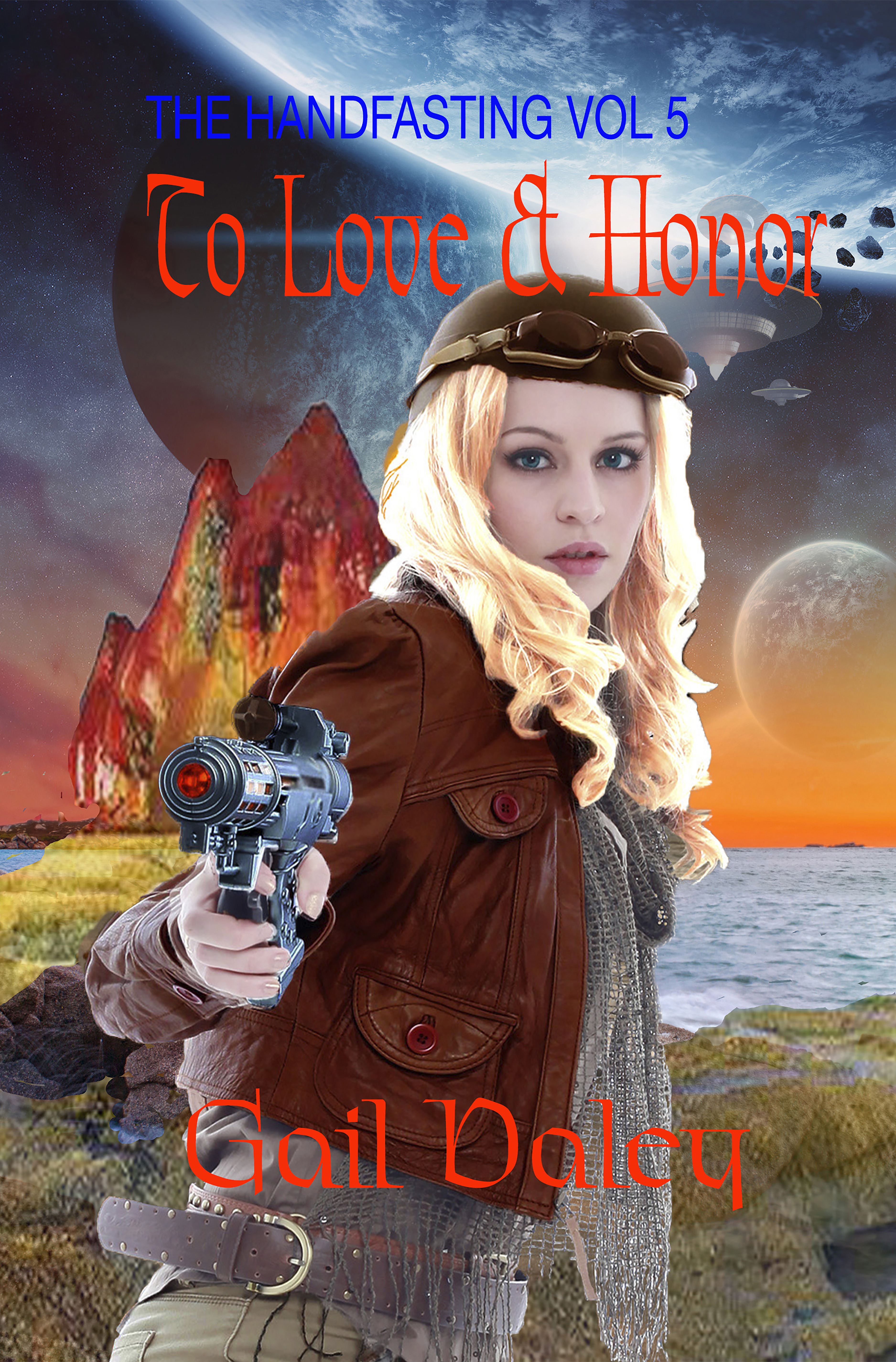 $ 12.95 USD
Lucinda was a "designer child". Given genius level intelligence in an embryonic Thieves Guild lab, she learned survival in a harsh world. At twelve, she was rescued and adopted into a loving family. As an adult Lucinda chose to fight her former masters by joining the police force. She works hard to earn her place among Vensoog's law enforcement community. On her first assignment, compassion impels her to protect an alien mother and daughter fleeing off-planet bounty hunters. To ensure their safety, she must defeat a deadly Soturi warrior in hand-to-hand combat. Then she rescues a 'designer child' who is a younger double for herself from a sex trafficking ring. To solve this case and rescue the other children trapped by those same criminals, she must capture a vicious Thieves Guild assassin. But even with the help of the best private eye on Vensoog, these are tough cases for a rookie cop.
Warriors of St. Antoni – Book 1 of St. Antoni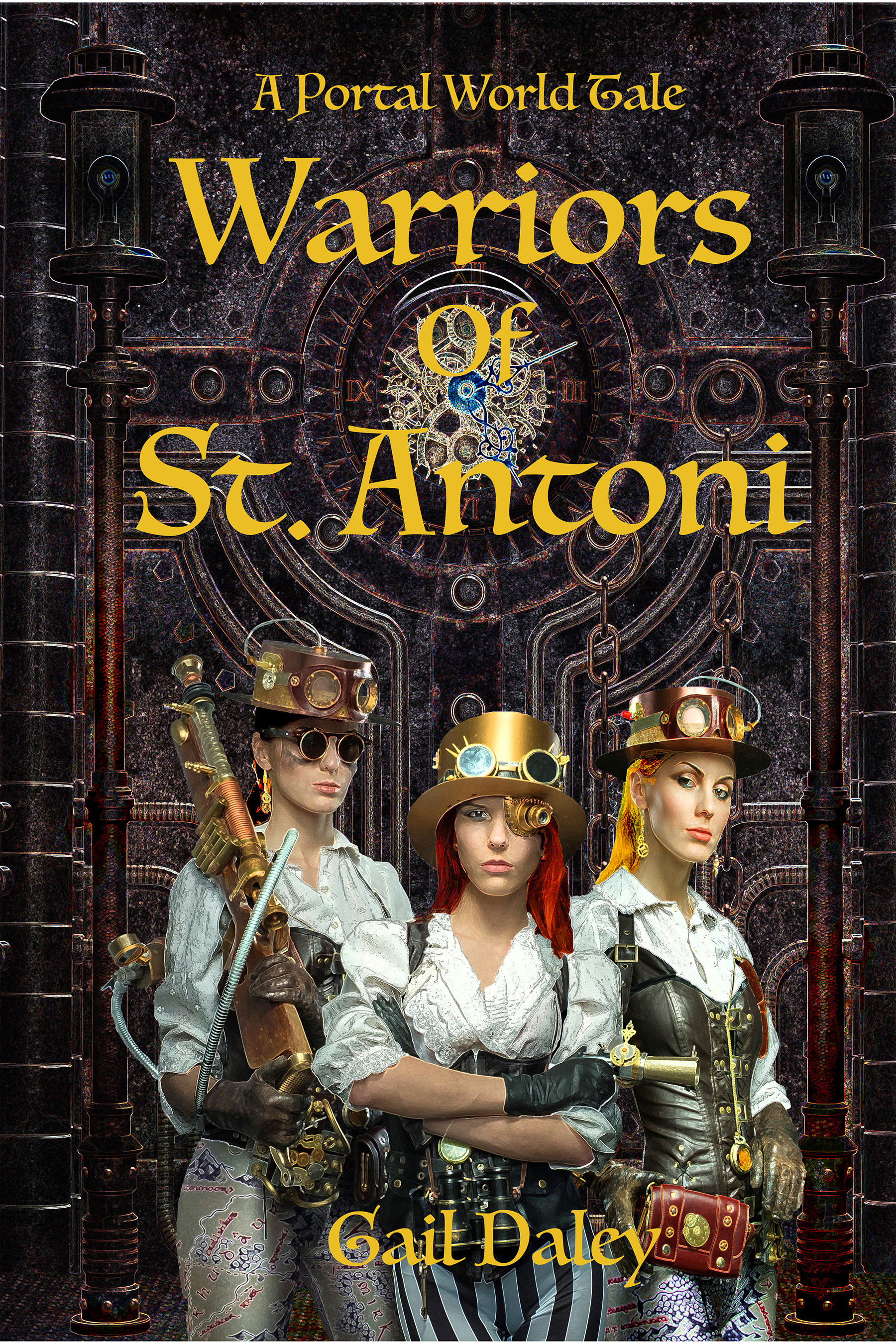 $ 12.95 USD
On the frontier world of St. Antoni, you got tough—or you died. This is the story of sisters Bethany, Jeanne and Iris, and the choices they make to survive on the world of St. Antoni. Bethany marries a mercenary warrior to shield her family from a predatory neighbor. To her surprise, the marriage of convenience turns into a love match, but Bethany and Alec must learn to trust as well as love each other. Iris chooses an arranged marriage with a beloved old friend, but did Carlos marry her for love, or to please her father? Jeanne and Samuel, the son of her family's greatest enemy, run away to a distant city to build a new life, but discover you can't run away from who you are. Book 1 of the New St. Antoni Series
Spell of the Magi – Book 1 of The Magi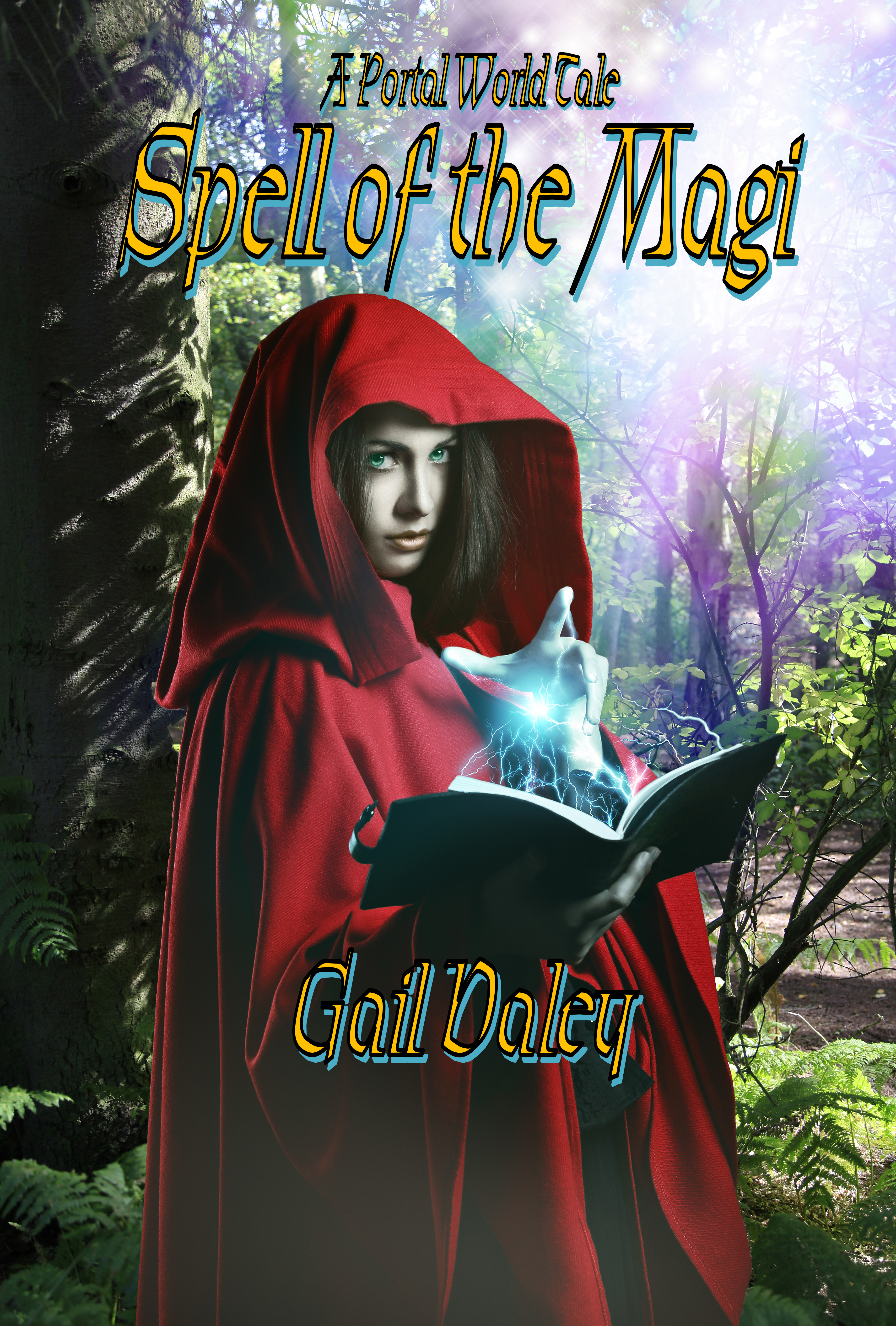 $ 13.95 USD
Book 1 of The Magi of Rulari A New Series in the Portal Worlds Tales. Rebecca was born to the Magi in a land where it means slavery or death. All her life she has hidden from the Shan's Proctors who control the enslaved Magi. To keep her family safe from them, she will risk anything, tell any lie, even trick an innocent man into a forbidden marriage. She never expected to fall in love, but it happened. Now she and Andre must defy the Proctors with nothing but his skill with a blade and her untried magic