How To Do Rustic Right
Urban Rustic is one of the hottest design trends today. Its based in the past, and yet it has the edgy and trendy look of contemporary design. Urban Rustic blends the new and the old, the hard with the soft. Tip: Always add contrast to every design element. If you feel you have gone too contemporary, warm it up with a painting or print reflecting old time values or if it feels too rustic, then jazz it up with a more contemporary print or art like an abstract or cityscape.
How to Bring the Outdoors Inside
The outdoors has a natural appeal to us. Images of earth, water, and sky make us feel restored and calm. How do we get elements from the outdoors inside of our home? The easiest way is to bring in art illustrating these elements into your living space. Tip: Use Natural Fibers, Textures and Patterns: Wicker, Rattan, Hemp, and Jute are all inspired by nature. Tip: Use colors that are reflective of the outdoors: Green reminds us of the earth, grass and plants. Blues are inspirational like water and the sky. Yellows evoke a sense of cleanliness, like the sun and fresh flowers. Neutral tones like white, tan and beige will give your interiors a natural feel. Use these colors on your walls, window coverings, and bedding.. Try adding Paintings and Prints of these elements if you don't have the real thing on hand. Tip: Decorate with fruits and vegetables: The latest interior décor trend is to decorate with food. Use lemons, limes, and mint or still life paintings of these things for a visual and aromatic outdoor inspiration!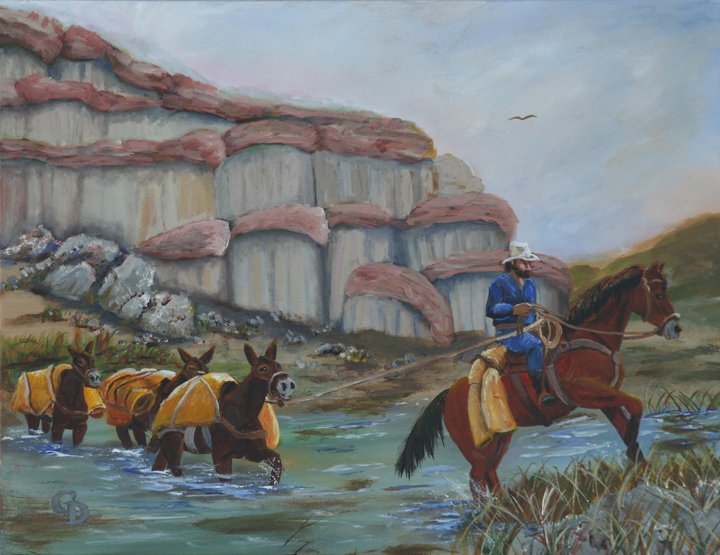 Our gold-panning group, CVPA, often holds a group affair out at some of the more distant claims, sometimes utilizing sites owned by sister organizations. The Camp at Duesenberg was one of these. On the way there, we stopped so I could take some photographs of some striking red cliffs. I used a portion of these cliffs for the background of this painting of my imaginary traveler. I am somtimes forced to laugh at Western movies because they usually show their heroes setting out on long trips with nothing but their horse. In fact, even a single traveler required enough gear to load up a pack mule to survive on a trip. You need food for yourself and your animals, camping gear, cooking utensils and if you were traveling in the desert, water! So I chose to portray my traveler with all of these things.