I really enjoy doing pet portraits. Pets can teach us so much about unconditional love and living in today. I always try and capture the unique quality of each pet I paint. Surprisingly, some farm animals have developed into popular pets: goats and chickens for instance.

Gails portraits of pets, wildlife and other animal paintings and prints are done in colors that will fit easily into any décor, whether it is wall art, southwest themes, a rustic cabin, a beach house, hotel rooms, a hotel lobby, a doctor's waiting room, or an office. Her art is for sale in many formats, prints on paper, canvas, and metal, greeting cards, posters, Acrylic art prints, framed art prints, and Original Acrylic Artwork.
CAT NAPPING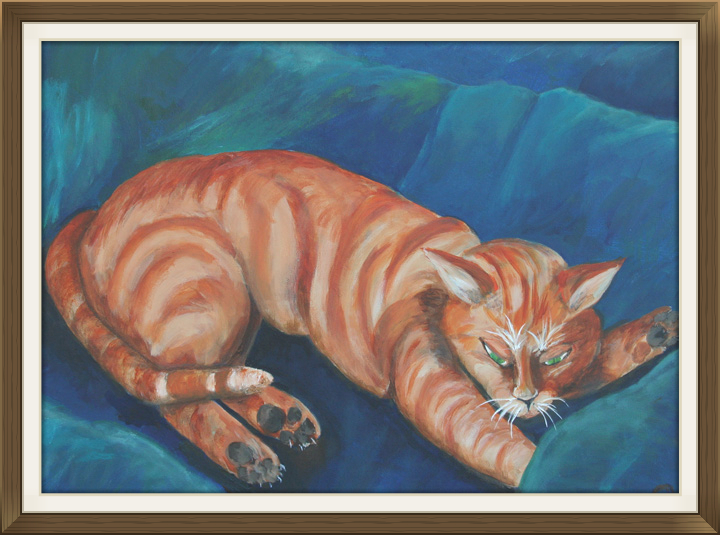 I took the photograph his painting was based on some time ago. This will be the 3rd painting I have done of him. The 1st, Domestic Tiger, I did in the first three years he came to live with us. The 2nd, Eye To Eye, I did when he was around six. We recently figured out how long he has been with us and it is about nine years. In a cat's years that would make him approximately 75 if he were a human, so in all likelihood, this will be the last painting I do of him before he too passes over the bridge. Shere Khan was sort of a rescue. He was part of a gang of feral cats who were being fed by a woman renting an apartment where my husband serviced the apartment pool. She told my husband that his people had simply moved off and left him, a vulnerable kitten on his own. Humans can be very cruel and unthinking. At the time my husband found him, he had been wild about three months. He was only six months old so he had still been a baby when they abandoned him to fend for himself. Vernon persuaded Shere Khan to allow him to pet him and then brought him home to our mixed household of cats, dogs and a Guinea pig. He soon learned that inside our house was neutral territory and he was safe there from the dogs, but he had been wild long enough not to be happy spending all his time inside the house. He also had to learn that he wasn't allowed to hunt or terrorize the Guinea Pig, Frosty. Sine he is getting older, he now spends most of his day asleep in the yard instead of patrolling the neighborhood. He has regained control of the back yard and garage now that our four dogs have traveled over the rainbow bridge and succeeded in ridding both places of the field rats and mice that infested them. He has outlived the dogs and the Guinea pig, and has been an indulgent Uncle to two kittens. One of them Spooky passed away early from a brain tumor, but Moonstone our little princess is very much in evidence.
MILKMAID

A woman in a red dress is milking a goat. I have always been fond of goats and my Family history with these clever, funny animals comes from my favorite Uncle who raised them on what would these days be considered a "hobby farm". As a child, I loved visiting his place because of the variety of animals he and my aunt kept. I learned to milk the family of goats, feed them, groom them and after the meat returned from the local butcher, to eat them as well. . It caused quite a family ruckus when the family discovered he was naming his nanny goats after his female relatives. After my mother threatened to name the dog after him, he switched to using a baby name book. Uncle Swede had a rule, if he named a goat it was destined for the dairy and it was safe to become fond of it; unnamed goats were destined for the table.